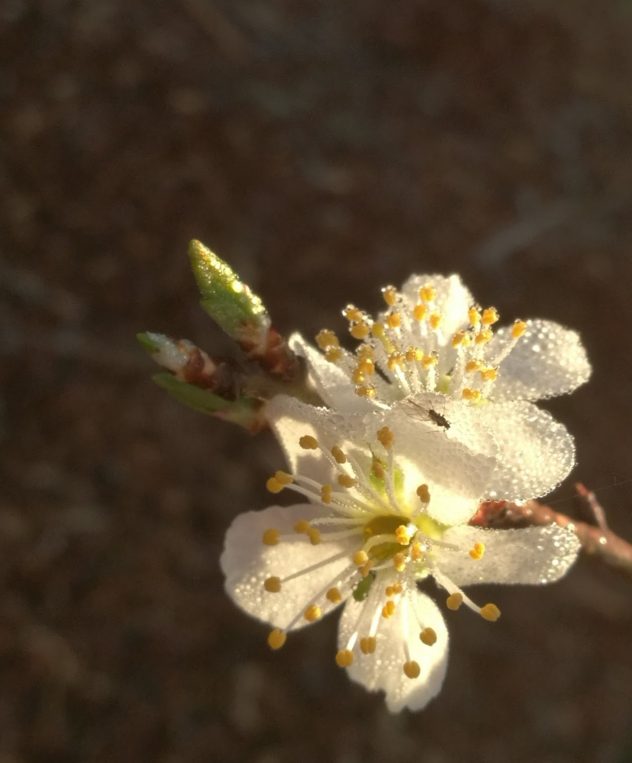 Spring is here. The plum tree is in bloom–okay, it's the first year. And when I say in bloom, I mean "It has a bloom". Even the doves are getting frisky. What the first warm days of spring require is unalloyed frivolity. I figure that has to mean bubbles. I went looking for choices in the spritz category, and we have covered most of the ones that I have run across that we like. No problem. I concocted one of my own. In honor of Spring…
That Tingling Feeling
4 oz. Cava or other dry sparkling white wine
1 oz. Campari
1 oz. Parfait d'Amour
Stir with ice and strain.  Garnish with a grapefruit twist (or something else pretty).
Two things should immediately come to mind… 1) Are you sure this isn't a thinly veiled attempt to get rid of some of the Parfait Amour that you bought for some cocktail that sucked. I am scandalized by such accusations. 2) Just, are you sure? Well, the Campari does keep it from being completely cloying, but if there aren't doves getting freaky in the backyard, you probably do want a more serious (as spritz's can be) drink.
Still, on the first warm spring day, it's not a bad choice. Besides, it has to be fun to go a bartender and say "Give me That Tingling Feeling".
Cheers.